What do we get when we put together Red Bull Skydiving Team, ADV Team, professional skydiving cameraman and a perfectly shaped heart island? Cupid arrow above the beautiful Adriatic Sea.
Galesnjak island on Adriatic Sea became a huge hit around the globe when Google Earth found it a few years ago and together with Red Bull Croatia we made a big hit today.
People like to call it Love island. It is located close to the island Pasman and town of Turanj. But, incredible idea by Red Bull Croatia Team, awesome skydiving performance by professional Red Bull Team Skydivers Amy Chmelecki, Marco Waltenspiel and Marco Fürst, epic camera flying from Wolfgang Lienbacher, flight operations and logistics by ADV Skydiving Zadar Team made it a huge hit on Valentine's Day.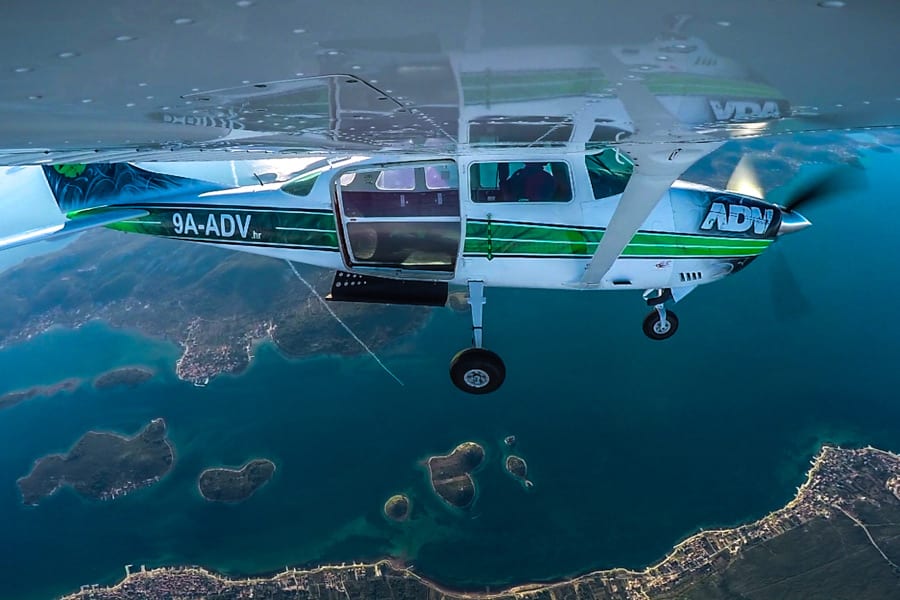 The idea of ​​flight in formation over the island in the shape of a heart was, no surprisingly, very well accepted by Red Bull Skydiving Team, who flew to Croatia with the lighting speed. Forming an arrow over an island is not an easy job. Due to the fast changing winter weather in Croatia, we had a small window to make this project done and it was just at the time when our famous local "bura wind" chased away the clouds and made a perfect day for skydiving.

Red Bull Skydivers jumped over this beautiful 'heart-shaped' island with a smoke to make aerial wingsuite formation impression of cupid arow over the island.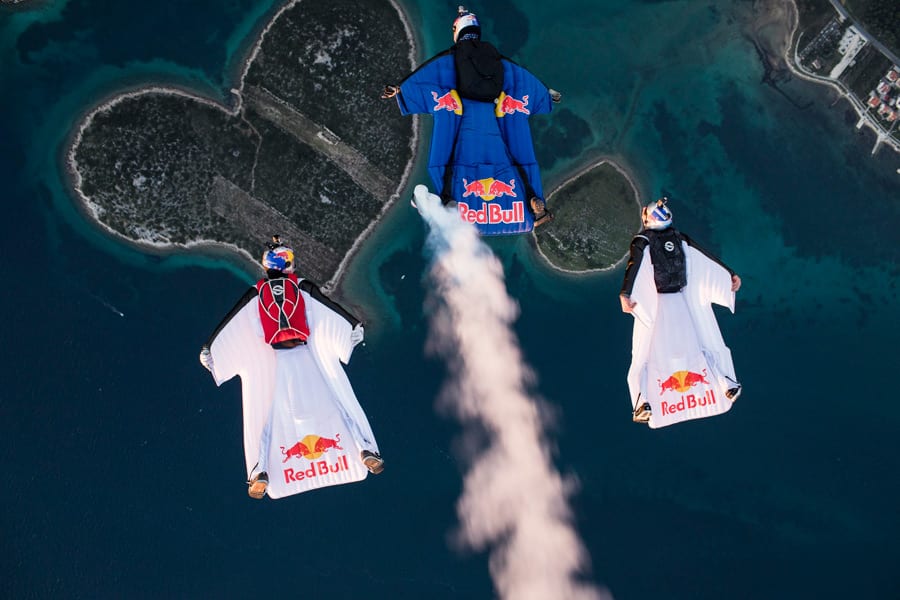 But there were challenges to make this project work. There are always some challenges, right? One of them was when Amy told us that she lost here parachute with luggage on the way to Croatia. It was the skydiving equipment that she intended to use for this particular project. But ADV Skydiving Team Zadar was there with all our logistics and there was no problem because we borrowed our own equipment and she managed the jumps like a real professional. Amy is a real skydiving star with over 16,000 skydives in pocket and she recently participated in the women freefly world record.
Amy Chmelecki said:
"Croatia is everything I expected it would be. Beautiful! There is nothing better than flying over a beautiful location in the company of dear friends. One of my favorite things to do in this world is to fly over beautiful places, so this project was extremely special to me! In the end, everything worked out great! The equipment lent to me was easy to manage and the local crew even packed my parachute for me!"
We are really proud that we had a part in organisation of this great project with our flight operations and logistics that was a great promotion for Croatia and adventure tourism in Zadar region.

Photo by: Wolfgang Lienbacher
---