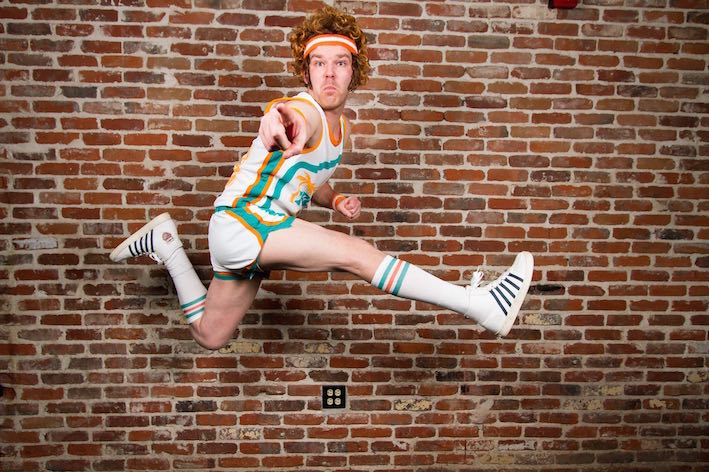 Your days are numbered. You've lived long and fulfilled life of excitment and danger, but it will all come to an end soon…and babies will come. So, why not get crazy one more time? And why not make it classy!?!
Bachelor Skydiving Party ADV special is offered all year round on selected days. Check free slots on our green BOOKING button or send us an inquiry with your idea or prank on CUSTOM ADVENTURE.
Availability:
Adrenaline level: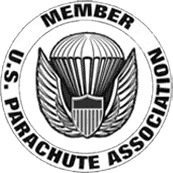 ---
Welcome to Bachelor skydiving party. What can you expect?
Bachelor skydiving party is definitely special! OK, so you want to make this day special one for your self and for your best friend. No problem, we can help you on that mission.
Jump into one of the greatest adventures of your life with style.
Best friend decided that you will stand by his or hers side at the altar as best man or maid of honor. Your number one job (besides making sure that bride or groom show up) is to throw them the best bachelor or bachelorette party ever! If you want something different from traditional party (read: rivers of alcohol and exotic dancers), why not adrenaline pumped bachelor skydiving party.
Take your soon-to-wed friend for some special time with our specialised bachelor skydiving team. You can do it on Skydiving Zadar or Skydiving Zagreb drop zone. We bet this will be one of the rare situations (except when their favorite sports team is losing) when you will see grown man crying and screaming like little girls. Yeah, you know you want to test your bravery one last time because boys will be boys.
This is how we do it. We will organise secret pickup on location best man or best girl provide us and we will play kidnapping game. Our team will come masked and bachelor or bachelorette won't know what to expect. The bachelor skydiving party 'subject' 🙂 won't know where we are taking him/her until we are in front of the airplane. The 'subject' won't be aware that bachelor skydiving party will take place. The real fun starts now! Two best friends will be free falling above blue sea.
If we didn't answer any of your questions regarding skydiving in Croatia please check skydiving FAQ.
Friends and spectators are more than welcome to be part of bachelor skydiving party.
Video and photo options
This is one of the most scenic drop zones in the World. We are skydiving above the sea close to mountain Velebit and in the middle of two National parks: Kornati and Paklenica.
You're going to have the time of your life in Zadar, Croatia. First skydiving jump is only one, remember it and share it with your friends and family.
We take a really special care about video and photo editing of your first jump to create memories that you will never forget. Take a look at our YouTube Channel.
We use GoPro 9 Black for video and Canon DSLR for high quality photos. All video options are pro edited with music.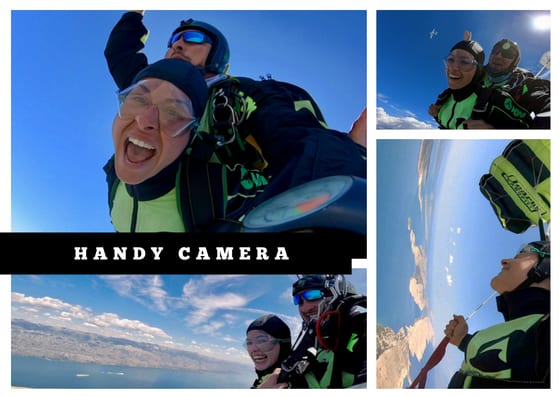 49 EUR
Handy Camera (Video)
1st person perspective, filmed from the hand of your Tandem Skydiving Instructor by GoPro 9 Black. It records you on the ground before your flight, sequences in the plane, free fall and canopy flight. Great value!
---
100 EUR
Skydiving Camera (Video and Photos)
2nd person perspective, your personal skydiving cameraman jumps with you. He will be flying with you to capture both video and still photography. This option captures beautiful scenery and it is great to see someone free falling with you. Amazing memories!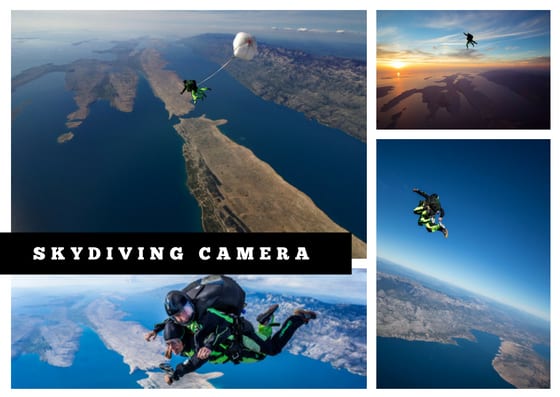 ---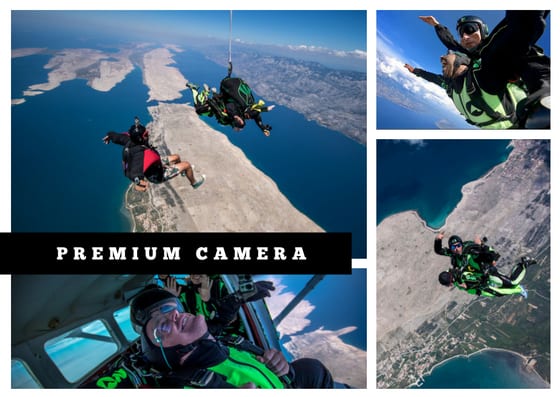 119 EUR
Premium Camera (Video and Photos)
This option combines all possible camera angles we can do while skydiving: 1st and 2nd person perspective. This includes filming an interview with you on the ground before your flight, sequences in the plane, in free fall and your reaction when you land. This is the way to do it if possible, create memories that will last forever.